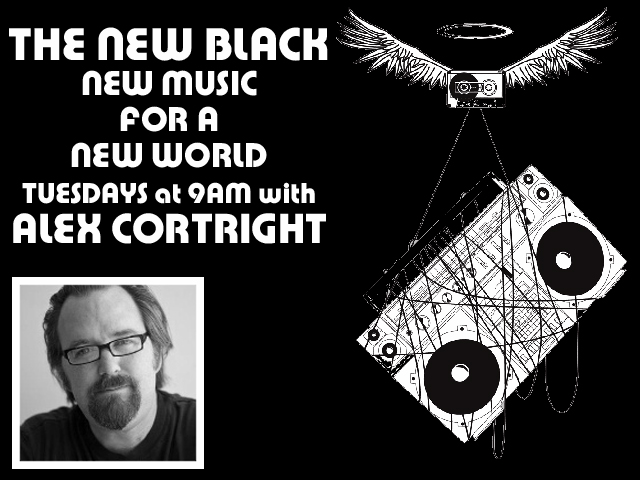 HEAR THE LATEST AND GREATEST
There's a new trend in Naptown! THE NEW BLACK: new music from 9-10am Tuesday mornings with Alex Cortright.
Here's Alex with a few words about THE NEW BLACK:
"The New Black" - it's what's happening now. Did it replace the last thing? Well, maybe. But perhaps it just added something interesting to what had been there. Trendiness? No. Trends? Maybe. Compelling new songs? Yes.
The New Black is about good new music from any source. Duke Ellington famously remarked, "If it sounds good, it IS good." I think that's about as concise a statement of purpose as one can hope for. Join me Tuesdays at 9a. Wear what you want.
-Alex Cortright
---
The Playlists - March 2014
March 4th
Dan Croll, Live in studio
Songs Played, solo acoustic:
Thievery Corporation (feat. Shana Halligan) - Depth Of My Soul
Lo-Fang - When We're Fire
Steve Martin and The Steep Canyon Rangers featuring Edie Brickell - Atheists Don't Have No Songs
The Playlists - February 2014
February 25th
Boy & Bear - Southern Sun
Ray LaMontagne - Supernova
Jessica Lea Mayfield - Oblivious
Vertical Scratchers - Pretend U Are Free
Ben Harper - Jamaica Say You Will
Phantogram - Never Going Home
Eric Hutchinson - Tell The World
Hozier - Take Me To Church
Bear Hands - Giants
Grizfolk - Hymnals
February 18th
Beck - Morning
Vertical Scratchers - My Only Want
White Denim - At Night In Dreams
The Fratellis - She's Not Gone Yet But She's Leaving
Courtney Barnett - Don't Apply Compression Gently
Band Of Horses - No One's Gonna Love You (Acoustic At The Ryman)
Karen O and Ezra Koenig - The Moon Song
Hozier - Take Me To Church
February 11th
G Love & Special Sauce - Nothing Quite Like Home
Angel Olsen - High and Wild
Band Of Horses - Funeral (Acoustic At The Ryman)
Dean Wareham - The Dancer Disappers
Kaiser Chiefs - Bows & Arrows
Thumpers - Sound Of Screams
Courtney Barnett - Avant Gardener
Sam Smith - Money On My Mind
The Playlists - January 2014
January 28th
Madeleine Peyroux, live in studio
Solo, acoustic songs performed:
"Changing All Those Changes"
"Take These Chains From My Heart"
"I Can't Stop Loving You"
Courtney Barnett - History Eraser
The Districts - Rocking Chair
Thumpers - Sound of Screams
Warpaint - Love Is To Die
---
January 21st
Beck - Blue Moon
Sharon Jones & The Dap Kings - Signed, Dealed and Delivered, I'm Yours
The Belle Brigade - Ashes
Black Lips - Boys In The Wood
Lucinda Williams - Changed The Locks (25th anniversary re-issue)
Midlake - The Old And The Young
Sam Roberts Band - We're All In This Together
Lucius - Until We Get There
Shearwater - Natural One
---
January 18th
Bruce Springsteen - The Ghost of Tom Joad
Ages And Ages - Divisionary (Do The Right Thing)
The Fray - Love Don't Die
The Belle Brigade - Ashes
Phosphorescent - Tomorrow Is A Long Time
Phantogram - Fall In Love
T Bone Burnette, Oscar Isaac, Justin Timberlake, et al - Please Mr. Kennedy
Sam Roberts Band - We're All In This Together
The Dead Weather - Open Up (That's Enough)
Foster The People - Coming Of Age
---
January 7th
Sam Roberts Band - We're All In This Together
Silversun Pickups - Cannibal
Vampire Weekend - Time To Say Goodbye (Con te partiro)
Langhorne Slim - Early In The Morning
Courtney Barnett - History Eraser
David Bowie - I'd Rather Be High
St. Vincent - Birth In Reverse
Jose Gonzalez - Stay Alive
---
CLICK HERE for playlists from past episodes of The New Black